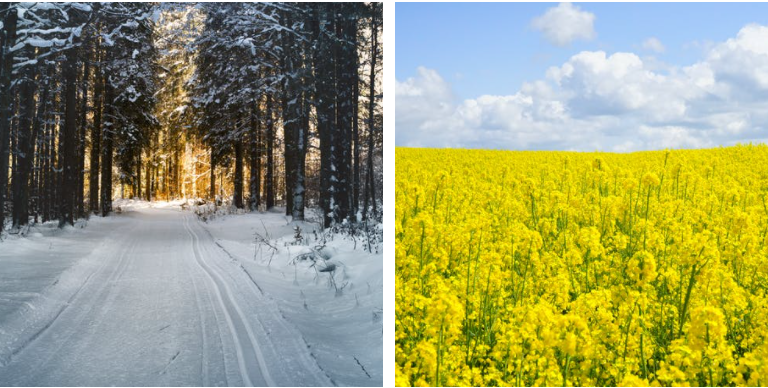 Do you have a favorite season? One that seems to produce a sense of wellbeing and joy? Have you ever considered using that season as a guide to your interior paint color choices? By using paint colors to evoke a certain season, you can enjoy subtle tones of your favorite months, any time of the year!
There is an unlimited variety of ways you can do this, so it would be impossible for us to cover them all here. Instead, we will introduce the idea and give some examples, and hopefully it will inspire you to create the interior paint scheme of your dreams!
Balance Is the Key with Interior Paint Colors
In order to create just the right feel, you need a pleasing balance. This is usually achieved by having one dominant color that takes up most of the wall space, along with one or two coordinating colors that provide visual interest and harmony. For example, you might have three walls be the dominant color, the fourth wall be an accent color, and the trim could be a third color.
If you have wainscoting or chair rail in a room, another way to get this kind of balance is by putting one color on the upper portion of the walls, another color beneath, and a third color for trim or accents.
Finally, your accent colors do not have to be painted at all. You might choose one wall color and one trim color, and the accents could come from furnishings, such as wall art, a table runner, a carpet, or a lamp.
With the concept of balance in mind, now we can turn to the seasons for color schemes. Let's look at one color palette for each season.
Finding Inspiration in the Seasons
Winter: If a walk through a winter wonderland sounds like paradise to you, then it makes sense to begin with white as your dominant wall color. That does not need to be boring or bland, however. Start browsing white color cards at your local paint store, and you will find an endless variety! There are warm, creamy whites, and cool, blue-toned whites. Whites can tend towards gray or tan. What feeling do you want to envelope yourself in?
As a fitting complement to your white walls, gray can make a wonderful accent for trim and baseboards. This has become a trend in classy homes in recent years. Some daring homeowners even go with black trim, to striking effect! Or, for a little more color, find ways to bring in a pale winter-sky blue, or a fallow-field tan.
Spring: While green might be the first color you think of with spring, it doesn't have to be! For example, lavender or buttercup could serve equally well. Choosing lavender as our main color, you can make use of pastels such as yellow or coral for accents.
When you are dealing with rich colors, less is often more. Rather than using large amounts of your coordinating colors, subtle touches can be much more pleasing. For example, the lavender walls might be beautifully complemented by pale yellow curtains and coral throw pillows.
Summer: Blue sky above, and blue water below, with sand between your toes… summer is a hard season to compete with! A lovely blue for the walls, with white baseboards and trim, can evoke the sky and clouds we love to stare at. To deepen the experience, you can use two tones of blue. A touch of yellow in the décor evokes the sunshine. With some indoor plants to introduce a healthy spray of green, the effect is nearly a vacation in itself!
Autumn: There are many places in the home where fall colors would look spectacular, but let's take the dining room as an example. A few years ago, many homeowners began choosing a deep, rich red for their formal dining rooms. If you accent this with some classy browns (like a walnut dining table or tan curtains), the effect is decidedly autumnal. For a classy finishing touch, find a way to add some flashes of yellow or gold in the decorations.
Dream, Browse, and Narrow Down Your Options
Now that you have heard some examples, it is your turn to dream! Choose the season you want to evoke, and the room you want to do it in, and then start brainstorming. You can use the color cards at your local paint store, or do your searching for inspiration online. The first step is to gather a wide range of color possibilities, then you can begin narrowing them down to your favorites. Remember, select a dominant color first, then the others that will coordinate with it.
Choose Your Interior Painting Company
Selecting your interior paint color is not the only choice you need to make; you also need to pick your interior house painter. Luckily for Connecticut residents, the choice is not difficult! For over 40 years, Southington Painting has been providing Connecticut with exceptional customer service and spectacular painting results.
In addition to interior painting, we also offer exterior house painting, drywall services, kitchen cabinet painting, epoxy floor coatings, and more. To get started, contact our office by phone or use our convenient scheduling tool to arrange a free estimate. We are excited to meet you!