For many of us, the idea of a freshly-painted home interior is exhilarating. Whether the home is new construction or we are remodeling, we can imagine fresh beautiful walls that coordinate perfectly, welcoming us and our guests. The task of actually choosing those paint colors and making them look good together, though, can be overwhelming. Here are some tips that can help make the process less daunting.
Select Your Main Color for Open and Connected Spaces
Usually it's a good idea to start by choosing a color that will run throughout the open and connected spaces in your home. This would include foyers, hallways, and rooms that are easily visible from another room, or share a wall with another space. In an open concept home, often the kitchen, living room, and even dining room will share walls, or have wide openings from one to the other. The color that you paint these open areas will serve as a sort of theme color, with which you can coordinate other colors in your home interior. Since this color will cover such large portions of the house, it is most common to choose a light neutral color such a white, grey, or beige.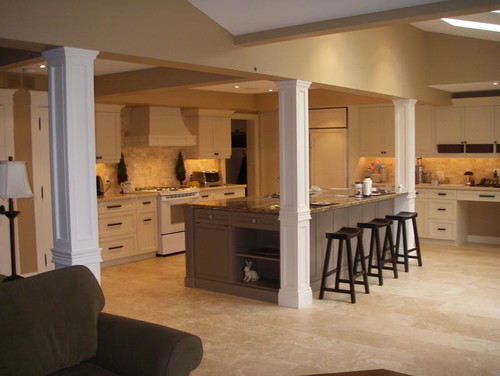 Photo by Decorator's Corner - Search home design pictures
Choose Paint Colors for Separate Rooms
Once your main color for the open areas in your home is chosen, you can pick colors for self-contained rooms, such as bedrooms and bathrooms. These areas do not need to all match with each other. However, it is a good idea to have them all coordinate with the color you choose for the open areas of the home, so that the total effect of moving from one area of the home to another will not be jarring.
Photo by Braulio Casas Architects - More bedroom photos
Accent Walls and Trim
You can have fun and put your creativity on display with accent walls. Even in a room that is open to other rooms, you can choose one wall to be a bold, contrasting color. This will bring energy and focus to your space. An accent wall is a great place to put a dark, bright, or vibrant color that you love, but which would be overpowering if painted on all the walls. While you would not want an accent wall in every room, choosing a few through out your home can help you to incorporate more colors, and add a lively touch.
Photo by Nate Fischer Interiors - Discover dining room design ideas
More Tips for Choosing Interior Paint Colors
Don't worry, you're not alone in this process! If you need inspiration or ideas, there are many websites (such as Pinterest and Houzz) with a great abundance of photos available to help you see all kinds of color combinations and interior painting ideas. If you could use more help, a professional painting contractor can give you expert advise on the colors that would best suit your home.
House Painting Contractor in Connecticut
If you are planning an interior painting project, Southington Painting would be honored to work with you. Southington Painting is a fully licensed and insured painting contractor serving Connecticut, Massachusetts, New Hampshire, and Rhode Island.