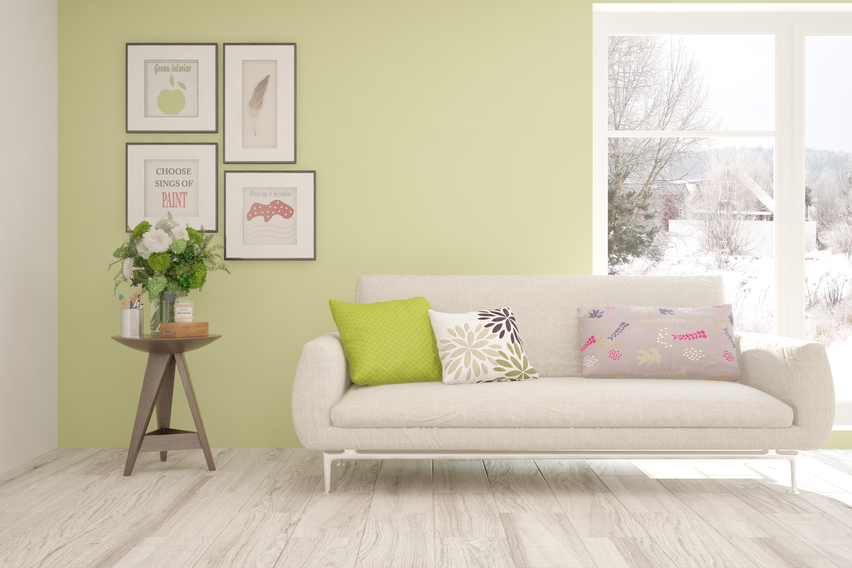 The days are short and cold, and the Christmas decorations have disappeared. It's easy to be in the doldrums at this time of year. A great way to cheer up this chilly, gray season is to add some fresh new colors to your home! Here are some home interior painting projects that could leave you and your house smiling this winter.
Accentuate Your Living Room
Give your living room a whole new look with an accent wall. If you don't want to repaint your whole living room, but you would like to have it feel fresh and fun, consider painting an accent wall. Choose a color that you love for your accent wall, and then look for a couple accents in the same color that you could add, such as artwork, a vase, a throw pillow, or a candle holder. They will add interest to the room and tie the color of the wall into the rest of the room. It's an easy transformation!
My Space
Where do you spend lots of your time? Maybe your bedroom, your bathroom, or your study? Maybe this winter is a good time to transform your space. Think about what colors and details make you smile. Choose a style that expresses your personality, one that makes you feel at
home and comfortable. You could get really daring and put color on your ceiling!
Enter into Beautiful
This winter is a great time to beautify your home by repainting your entryway! There are many creative and attractive ways to make your entryway organized, functional, and beautiful. Choose a vibrant, happy color that will welcome you and your family home each time you enter your house and exude positive energy to your guests. A fresh coat of interior paint in the entryway can help you be prepared for hosting social events when spring and summer arrive.
Create a Cozy Corner
Maybe what you need this winter is to take a dreary little corner and turn it into something sunny, cozy, and delightful. Take a good look at your home, is there some unused or poorly-used space? Maybe it's the end of a hallway, under the steps, or a walk-in closet. Spend some time Googling ideas for creating cozy nooks. You may find yourself spending the rest of the dreary winter curled up happily in your new favorite spot!
Kitchen Facelift
Another way to add a cheerful boost to your home is to have your kitchen cabinets repainted or refinished. This is much more cost-effective than having them replaced, and yet can create a gorgeous new look for your kitchen. If your kitchen is feeling worn out or outdated, treating yourself to refinished cabinets may put a new spring in your step—even when washing the dishes!
Southington Painting Company
Southington Painting can do any of these interior painting projects for you, and more! We are a local professional painting contractor committed to providing our clients with exceptional quality craftsmanship and service. Southington Painting Company serves Connecticut, Massachusetts, Rhode Island and New Hampshire. We would be delighted to serve you and make your home more beautiful this winter. Please contact us soon, as our winter schedule is filling up quickly. Schedule your free estimate right from our website or call us at (860) 628-8923.